ceramartist
MARIA JONES CERAMIC ARTIST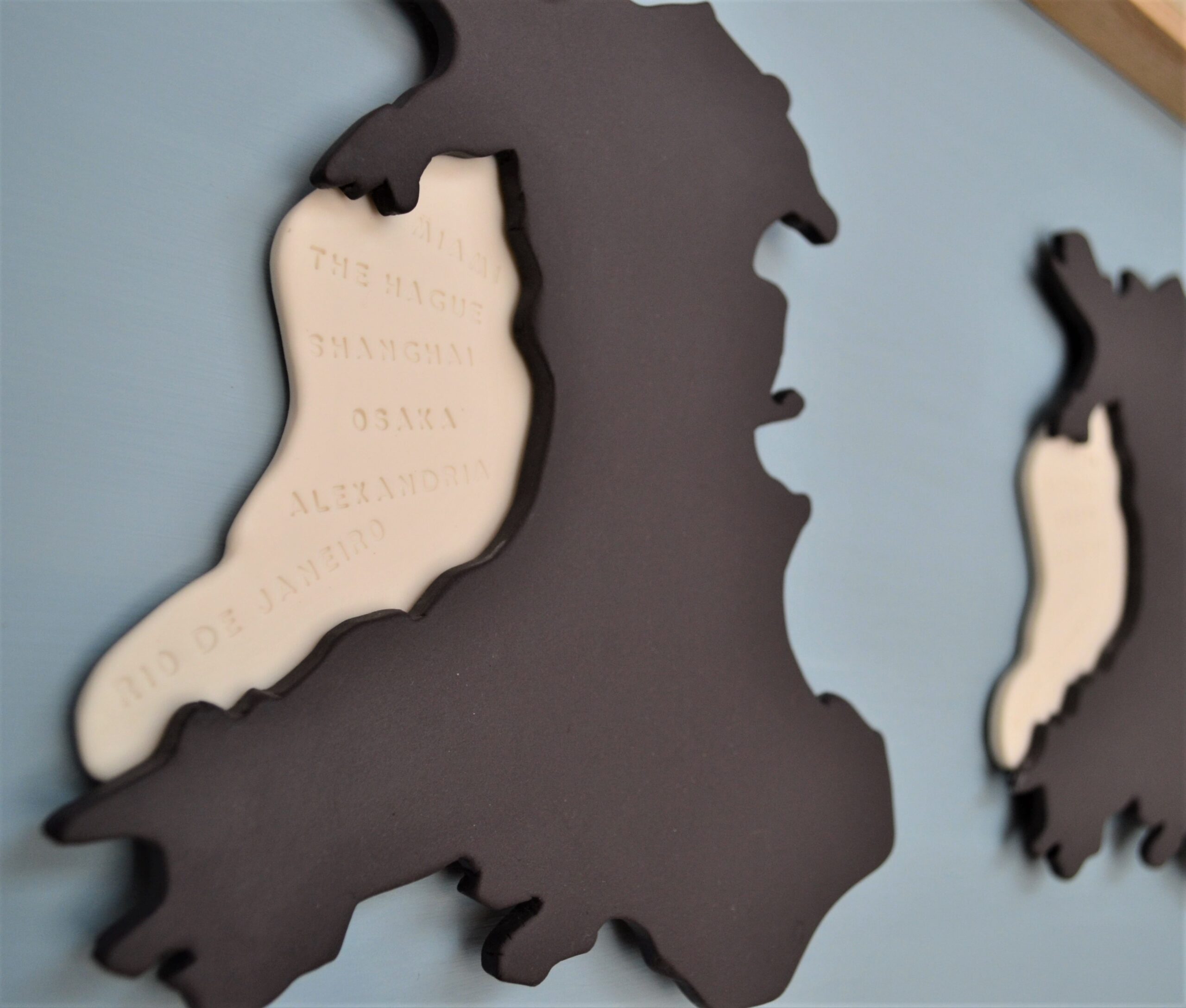 CONCEPTUAL WORK
My conceptual work takes its inspiration from subjects ranging from our over-heating planet to tax avoidance. 
2 pieces are featured on this page; more are in development.
Legends of cataclysmic floods abound worldwide – in parallel with modern-day reports of inundations and tsunamis, as the effects of unchecked climate change begin to be felt more and more. Despite Wales' relative safety in the latter realm, however, its folk history carries what must surely be one of the most haunting narratives in the former category.
It may, perhaps, never be established whether the 'story' of Cantre'r Gwaelod (the 'Sunken Hundred') has any basis in distant fact. However, this account of ancient lands now lost beneath present-day Cardigan Bay still troubles us today – perhaps owing to the importance that it assigns to the effects of human carelessness in maintaining the fragile balance between human and natural-world endeavours.
The short-sightedness of the lock-keeper Seithennyn ('the watchman' in J.J. Williams' famous poem), who was assigned to close the gates of the low-lying kingdom of Maes Gwyddno on the fateful evening of the sea's inundation, still stands as an awful warning to those who neglect the human relationship with nature. Bearing in mind the 21st-century world's current turn away from environmental awareness, it has even been suggested that the refrain of Dafydd Iwan's celebrated song, Yma O Hyd, could be appropriated to warn
'Ry'n ni yma o hyd': Seithenyn is still here with us.
Whether pure legend, or folk memory of a genuine and devastating event, loss on such a scale is a very real threat to many maritime territories today owing to the projected effects of sea-level rises driven by our warming oceans.
There is a world of difference between 2 Celsius and 4 Celsius which threatens more than double the damage
Ben Strauss, Climate Central
The aspirational goal of the 2015 UN Framework on Climate Change (the Paris COP 21) – now abandoned by a newly nationalist United States – envisaged a limit of 1.5ºC to check our rising oceans. Recent research demonstrates that we are already on track to exceed 2ºC, and debate now focuses on how many territories and cities might be submerged in the event of 3°C and 4ºC changes, as scientific estimates range from the relatively emollient 'more than 2 meters' to the precise 2.3m for each degree of temperature rise.
Taking as a datum those, mainly Pacific, island territories that have already been submerged and abandoned in modern times (at, effectively, 0ºC), Cantre'r Gwaelod displays their names, and those of cities due to be completely submerged, on the white porcelain of the 'Sunken Hundred', marking the most likely victims of 2, 3 and 4-degree temperature rises.
These names change steadily and ominously, from the exotic and evocative (Solomon Islands' towns such as Nuatambu and Mararo) to the familiar (Great Yarmouth and The Hague); to the chillingly unexpected (Pisa and Rio de Janeiro).
Even present-day Wales cannot count itself wholly immune: the proviso 'relative safety' in the opening paragraph stands as testimony to the increasingly fierce flooding experienced by communities along the Denbighshire and Conwy coasts. The recent concrete re-modellings of their seafronts is apparent to anyone previously familiar with these landscapes who sets out to walk the North Wales Coastal Path today.
At the other end of the country, however, the prospect of the Morlyn Llanw Bae Abertawe (Swansea Bay Tidal Lagoon) finally being realised would make it the world's first tidal power station – and also a harbinger of a new relationship between the natural and human-made realms.
Based on the latest reports, Montana may have to think of a new name for its famous Glacier National Monument. Of the 38 square-mile area once covered by glaciers, less than 25 percent remains. Researchers believe that by the year 2030, the vast majority of ice in Glacier National Park will be gone unless current climate patterns are reversed.
Karl Burkart, Mother Nature Network, 2010
One of the starkest reminders of our warming planet is given by the alarming shrinkage of the Earth's glaciers – both great and small.
Although this phenomenon often goes unnoticed, or is soon forgotten (until the press reports another colossal ice sheet calving off into the Antarctic), glaciers in many places currently sit as a shadow of their former selves.
Made all the more poignant by their evocative names, these vitally-important meltwater stores have been reduced, by varying degrees, from their pre-Industrial Age volumes.
Some have already disappeared: Chacaltaya ('the Cold Road' in Aymara) in the Bolivian Andes was once the world's highest ski resort; by 2009, it had vanished completely.
Black Ice 1 serves as a warning by charting in porcelain the relative volumes of these disappearing glaciers – their 18th-19th-century bulk indicated in white; their current volumes/areas, in black. The pieces are formed by impressing porcelain directly onto the scratches in the exposed intrusive, igneous gabbro rock of Pembrokeshire's St David's Head, left by the ice sheets during the last Ice Age.
The series of 8 pieces (6 are shown here) is hand built in black and white unglazed, high-fired porcelain mounted on flamed, brushed granite and can be ordered individually, or as a set.
View my commercial work – chandeliers, jewellery, pots, cards and panels – on the Commercial Work page.